"About two-and-a-half hours from Guadalajara by car, a stay at the lake has two possibilities: relaxing in a bungalow or in a trailer park. Koala Bungalows, run by Brit Chris French, is one of the better options..."

GuadalajaraReporter.com

"There are several hiking trails around the lake and there is good birdwatching. Two waterfalls may be visited that are quite spectacular. It's a great place to relax, swim in the lake, enjoy the scenery..."

tripadvisor.com

KOALA, is located beside this beautiful crater lake in rural western Mexico, near Tepic, Nayarit, within a few hours by car from Puerto Vallarta and San Blas on the Pacific coast, and Guadalajara in the altiplano.
La Laguna, an unspoiled crater lake about 2km in diameter, 52m deep and at an altitude of 758m, is surrounded by steep forested mountains that rise 300m above the lake.Winter weather is normally sunny and dry, with temperatures more moderate than the coast. This area is off the beaten path and abounds wildflowers, birds and butterflies.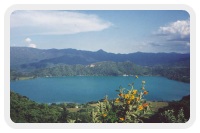 There is easy walking around the lake and more challenging hiking in the surrounding mountains.
Excursions can be made from the lake to visit Huichol villages where original yarnpaintings may be purchased. There are several places of interest in Nayarit and nearby states.